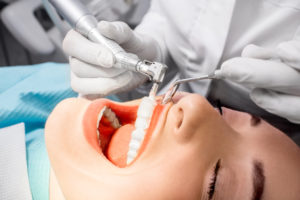 Visiting the dentist is not likely your favorite activity, but it's necessary. Actually, preventive dental checkups are essential to keep your smile healthy and avoid those more advanced treatments that give dental visits a bad reputation. In fact, the best way to avoid needing these advanced and potentially uncomfortable dental treatments is to visit your dentist more often. That's why the American Dental Association encourages patients to visit their dentists at least two times each year. These regular preventive dentistry appointments give your dental care team the opportunity to examine your smile for signs of tooth decay, gum disease, and other oral health concerns and partner with you to prevent advanced dental health issues.

Benefits of Dental Checkups & Teeth Cleanings
The benefits of keeping up with your six month dental checkups and cleanings are numerous and they include:
Avoiding the need for more advanced dental treatments
Maximizing dental insurance coverage
Keeping your smile whole and healthy
Improving the appearance of your smile
What to Expect During a Six Month Dental Exam
During a six month dental exam, the dentist's goal is to assess the smile and help patients avoid the majority of oral health issues. Every dental office is different, but most patients receive the following treatments during six month appointments:
Diagnostics – dental x-rays and images used to more clearly see your smile and provide early diagnosis and more accurate treatment planning
Examinations – careful tooth by tooth exam, screening for common oral health concerns, including tooth decay, gum disease, teeth grinding and clenching, TMJ dysfunction, and oral cancer
Cleanings – professional teeth cleanings remove plaque and tartar buildup from even the hardest to access parts of the tooth and gums, leaving patients with flawless smiles
Consultations – the dentist will sit down with patients one on one to review the diagnostic images and any oral health concerns discovered during your six month dental examination, answer your questions, and make a personalized treatment plan to deliver healthy smiles
Meet the Anderson Family Dental Team
At Anderson Family Dental, we are dedicated to helping Gahanna patients keep their smiles whole and healthy for a lifetime. We encourage you to schedule twice a year dental exams and professional teeth cleanings for every member of the family in our comfortable, state-of-the-art dentistry practice. If you want to learn more or schedule your six month dental checkup, give our friendly team a call today. We're here to help with all of your dental care needs.