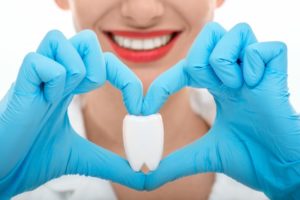 Did you know that your oral health is connected to your overall health? It's true, and so is that old saying that the mouth is a window to your body's health. Did you also know that February is American Heart Health Month and National Gum Disease Awareness Month? Now seems like the perfect time to better understand the connection between these two conditions. Check out this helpful information from your dentist in Gahanna.
What is gum disease?
Also called periodontal disease, gum disease is an inflammatory condition in the gums, but don't let the name fool you. It affects much more than just your gums. During the first stage, called gingivitis, the gums become red and swollen because of toxins that are released by the harmful bacteria found in your mouth. In the second stage, periodontitis, these toxins eventually cause the gums to recede or pull away from your teeth, forming pockets of trapped plaque and food particles. As they penetrate deeper, the bacteria then attack teeth's supporting tissue and bone, causing permanent damage. Without treatment, eventually gum disease leads to tooth loss.
Nearly half of American adults 30 years of age and older have periodontitis, and that percentage jumps up to 70% for adults 65 and older. But the good news is that gum disease is treatable. Through periodontal therapy, your dentist can restore your smile's health.
What is heart disease?
Heart disease is a term used to refer many problems, a majority of which are related to a process called atherosclerosis, which consists of plaque building up in the walls of the arteries. As the buildup narrows the arteries, it becomes harder for blood to flow through. If there is a blood clot, it can block the flow and cause a heart attack or stroke.
One in every four deaths is caused by heart disease, making it the leading cause of death for both women and men.
How are gum disease and heart disease connected?
Although it is difficult to determine causation, studies have certainly found a link between gum disease and heart disease. In these studies, gum disease was found to increase a person's risk of heart disease by 20%, and cardiovascular care costs were significantly higher for those who had poor oral health.
There are several theories in the medical and dental fields about how these disease can be related. One says that when gum disease progresses, especially to periodontitis, the bacteria that cause gum disease are more likely to be able to enter the bloodstream through the blood vessels in your gums. These bacteria can then cause inflammation in your arteries throughout your body. More research is needed to better establish the relationship between these two serious diseases.
In the end, the connection between heart disease and gum disease is clear enough for the American Heart Association and American Dental Association that both have acknowledged a relationship between the two conditions. Now we have even more reason to take care of our oral health and fight gum disease. For more information about gum disease, contact your dentist in Gahanna.
About the Practice
Known as a judgement-free zone, Anderson Family Dental was started in 1968 and continues to serve patients in the Gahanna area. Dr. Joy Todd and Dr. Ronald Anderson offer a variety of dental services, including cosmetic, restorative, and implant dentistry, and they make sure their patients are fully informed about their treatment options. To schedule an appointment, you can call (614) 475-1874 or click here.