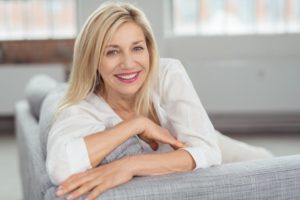 Do you have decayed or damaged teeth that affect the appearance and function of your smile? Many people avoid restoring these issues, but they can actually lead to even more serious problems. Unlike other medical problems that get better with time, dental decay and damage will only get worse if left untreated. Thankfully, your dentist uses custom-made dental crowns in Gahanna to restore smiles back to their full function, beauty, and strength.
What is a Dental Crown?
A dental crown gets its name because it literally "crowns" or caps the entire visible portion of your tooth. Crowns can be made out of various materials, but most dentists today use high-quality ceramics to match the look and feel of your natural smile. While they are mostly used to restore damaged or decayed teeth, dental crowns can also be used to fix misshapen or permanently discolored dental structure.
Do I Need a Dental Crown?
You could benefit from a dental crown if you have:
A tooth with decay too large to fill
A broken or cracked tooth
A weakened tooth
A chipped tooth
A misshapen tooth
A permanently discolored tooth
Dental Crown Procedure
It will typically take two visits for you to receive a dental crown. During the first, your dentist will remove a slight portion of your tooth to accommodate for the crown. After, they will take impressions of your smile, which will be sent off to a lab that custom makes dental crowns. While you wait for your permanent crown to be fabricated, your dentist will give you a temporary one to maintain your appearance.
Once your permanent crown is ready, you'll come back into the office. Your dentist will ensure that you're satisfied with the appearance and feel of your new crown before permanently placing it. Once your crown is placed, you'll have a fully restored and functional set of teeth.
Caring for My Dental Crown
Dental crowns are made to last for years to come and you may even forget that you have one. However, there are some steps you can take to increase the lifespan of your crown:
Brush and floss your teeth every day.
Add nonalcoholic mouthwash to your routine.
Visit your dentist regularly.
Only use your teeth for chewing and talking.
Avoid chewing hard objects like ice cubes.
Wear a mouthguard during sports or physical activity.
If your crown is made of dental porcelain, it is actually more resistant to staining than your natural teeth. That said, you should still avoid routine consumption of staining items like wine, blueberries, coffee, or other foods rich in color. Tobacco use and smoking can also cause staining and other oral health problems.
Does it sound like you could benefit from a dental crown? Contact your dentist to schedule a consultation to see whether or not dental crowns are right for you!
About the Practice
Dr. Joy Todd and Dr. Ronald Anderson are a team of experienced dentists who offer high-quality restorations to their patients in Gahanna. For any questions, they can be reached through their website or by phone at (614) 475-1874.