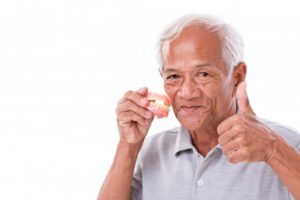 Are you excited to start enjoying your new dentures in Gahanna? It's important to be patient while your mouth is adjusting to your restorations. They're custom-crafted for your unique mouth, but you'll still need to get used to doing basic functions like chewing and speaking with them in. There's no need to worry though, this period only lasts a few weeks and the new feeling will eventually wear off. Read on for tips to help you adjust to your dentures faster.
Give Them a Chance and Set Realistic Expectations
Like most cosmetic and orthodontic treatments, dentures can feel odd in your mouth at first. When you're hyper-aware of the feeling, it can seem distracting and uncomfortable. Don't worry though, the effects will eventually wear off. Once you get used to doing basic tasks like eating and speaking with your dentures in, you'll notice how much they improve your quality of life.
Keep in mind that you'll experience some soreness after wearing them. If this persists, you may want to visit your dentist to get them readjusted to help relieve some of your discomfort. If you'd like to more gradually get used to the way they feel in your mouth, you can always take out your restorations every four hours to give your gums and jaw a small break.
Test Out Denture Adhesive
When you take home your restorations, be sure to ask your dentist if they have any recommendations for dental creams and adhesives. Try different ones to see what works best with your mouth. Remember that just a little bit can go a long way and help reduce your chances of experiencing irritation. However, be mindful that adhesive doesn't fix ill-fitting dentures. If your restorations are giving you persistent issues, schedule an appointment to see if they need adjusting.
Practice Speaking and Eating
Patients often have to relearn chewing and speaking with their new restorations. This can sometimes prove to be a little frustrating, but you can speed up the process by practicing. Sing in the shower and read aloud to help articulate speech sounds and reduce lisping and slurring.
When you're first adjusting to eating with your dentures, start off with soft foods that are easy on your gums like mashed potatoes and fish. As you get used to the way they feel and begin introducing new foods, be sure to cut them into small, easily chewable pieces.
Strengthen Your Cheek Muscles
Your cheek muscles help you chew and swallow food, so when you exercise them in the first few weeks of adjusting to your dentures, you can have more control over your restorations. Keep in mind that ill-fitting dentures can also result in cheek pain, so if you experience routine discomfort, be sure to schedule a visit with your dentist.
It's best not to miss any of your follow-up appointments with your dentist after you get your new restorations. Be sure to follow these adjustment tips to make it easier on your mouth and start getting the most out of your new dentures, faster.
About the Author
Dr. Joy Todd has 15 years of experience restoring her patients' smiles and oral health. She loves creating long-lasting relationships with her patients and learning about their dental goals so she can provide them with the treatment that's best for them. She's passionate about boosting her patients' confidence and giving them smiles that they're proud to show off. For questions or to schedule a consultation for dentures, visit Anderson Family Dental's website or contact 614-475-1874.