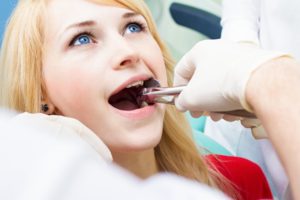 You had a root canal done on a tooth a few months ago, but for some reason the infection didn't ever really go away. As a result, your dentist told you that you have to get that tooth removed. Although tooth extraction is usually seen as a last resort, there are times when it's necessary. Let's take a closer look at tooth extraction, when it's needed, and how long recovery should last.
Why Does a Tooth Need to Be Removed in the First Place?
More often than not, a tooth extraction is required to prevent an infected tooth from causing harm to the surrounding oral structures. When decay has reached the inner portion of the tooth where the pulp lies, the bacteria can cause the tooth to die, effectively rendering it unable to do its job. Tooth removal is usually only performed if a root canal is unable to save the tooth. A tooth may also be extracted if space needs to be created in the mouth to make room for orthodontic treatment.
How Long Should Recovery Take?
Immediately after the tooth is removed, your dentist will ask you to gently bite down on gauze to allow a healing blood clot to form. You'll need to keep pressure on the blood clot for several hours after the procedure, if not for the rest of the day. Your dentist will instruct you on how often to change the gauze.
The rest of the healing process should take a few days to a week. In the first 24 hours, you should refrain from spitting forcefully or rinsing your mouth out. For the first three days, avoid smoking or using a straw. Smoking disrupts the mouth's healing process, and the suction of using a straw could dislodge the blood clot, causing a painful condition called dry socket. Stick to a soft food diet for a few days.
In general, after a tooth extraction, you can expect to turn to your normal life after four to seven days.
When Should I Call My Dentist?
After the initial anesthetic wears off, it's normal to feel some pain and soreness. Take any prescribed pain medication as needed. However, if the pain persists even after taking the medication, let your dentist know immediately. Also, call your dentist if you experience any of the following:
Signs of infection, such as fever or chills
Nausea or vomiting
Swelling or excessive discharge from the extraction site
Coughing, shortness of breath, or chest pain
These may be signs that your extraction site has become infected. Although the chances of this happening are slim, it is a serious situation, and you should call your dentist right away.
Tooth extraction should only take less than a week to recover if you take care of yourself properly and follow your dentist's instructions.
About the Author
Dr. Joy Todd earned her Doctor of Dental Medicine degree from the University of Kentucky before working at Anderson Family Dental in Gahanna, OH. She has more than 15 years of experience in dentistry. To learn more about tooth extractions, you can contact Dr. Todd's office at (614) 475-1874.