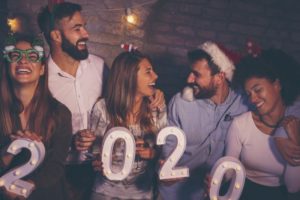 Are you looking forward to pressing the "refresh" button on your life for the new year? There's no better resolution to make than one in your overall wellbeing. Although your mouth seems like a small part of your body, it's just as important to keep healthy as any other body part. Building new and better dental habits starting in January can set you up for a year of fewer visits to your dentist and less developing oral health problems. Read on for four tips to keep your health in tip-top shape for 2020.
Commit to Flossing
The Centers for Disease Control and Prevention conducted the first nationally representative analysis to find out how many people in the United States flossed their teeth daily. You're probably surprised to know that only about 30 percent said they do. Although flossing may seem inconvenient and time-consuming, it's an important part of keeping your gums and teeth healthy. A buildup of harmful oral substances such as plaque and food debris between your teeth can increase your risk of developing gum disease. That's why the American Dental Association recommends flossing at least once every day to keep your mouth healthy.
Maintain a Nutritious Diet
Many people aren't aware that what they eat can reduce or increase their risk of dental decay. When you're conscious about consuming excessive amounts of sugars and carbohydrates, you can keep harmful oral bacteria from accumulating in your mouth and causing cavities to form.
Substituting healthier snacks for processed ones can help keep your teeth and gums healthier than they already are. The ideal foods to incorporate into your daily diet include:
Calcium-rich foods like fat-free milk, yogurt, cheese, canned salmon, and almonds help protect your teeth.
Phosphorus found in lean meats, beans, and fish can help strengthen your teeth.
Vitamin C in citrus, tomatoes, potatoes, and spinach keep your gums healthy.
In addition to routine dental hygiene, having a mindful and nutritious diet can boost your health.
Kick Bad Oral Habits
Many people develop bad oral habits over their lifetime, such as nail-biting, smoking, and teeth grinding. Unfortunately, while these are hard to break, they're ruining your oral health. According to the Centers for Disease Control and Prevention, smoking will double your risk of developing gum disease. Nail-biting and teeth grinding can cause excessive wear-and-tear on your teeth, putting them at risk of developing problems like cavities. Although it's hard, for the new year, try forming a plan to kick any of your bad oral habits to the curb.
Upgrade Your Dental Hygiene Gear
Some people may consider upgrading their dental hygiene tools as a frivolous way to spend their money. However, more efficient and effective toothbrushes, toothpaste, mouthwash, and dental floss can keep you from spending your hard-earned savings on costly dental procedures. Try investing in your oral health by asking your dentist what products they would recommend, such as water flossers or sonic toothbrushes.
All of these tips combined with routine dental checkups and cleanings will improve your oral health so you can look forward to a better you in 2020. Don't forget to ask your dentist if they have any particular recommendations or tips and tricks to help take care of your unique mouth during your next semi-annual visit!
About the Author
Dr. Joy Todd has been working in dentistry for over 15 years and loves forging strong ties and relationships with her community. She is passionate about providing each of her patients with high-quality preventive dental care to help keep serious oral health problems from developing. By tackling issues early, she is able to minimize her patients' risk and give them the tools and knowledge they need to get their oral health back on track. For questions or to schedule a routine checkup and cleaning to start your new year, visit Anderson Family Dental's website or call 614-475-1874.