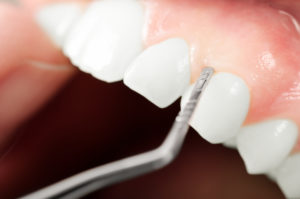 You may know already know the importance of dental hygiene for a healthy smile, but did you know that the condition of your mouth can have an affect on the rest of your body? More specifically, gum disease can increase your risk of heart problems like heart attacks, strokes, high blood pressure, and more. That's why people are turning to DNA tests to see if they're more susceptible to oral health issues like gum disease in Gahanna. But can you really predict your dental health based on genetic testing? Keep reading to learn the answer.
Genetic Testing and Gum Disease
There are commercially available genetic tests that check for disease. Typically, you will swab your cheek and send in a saliva sample for testing. However, with oral health problems like gum disease or tooth decay, just because you don't have a genetic susceptibility, doesn't mean that you're not at risk. In fact, gum disease currently affects about half of the American population, making it an incredibly common problem. In reality, the testing technology could eventually be more useful, but today, seeing your dentist in Gahanna for regular checkups is still the best way to monitor gum disease.
Lifestyle Factors that Impact Oral Health
While it is possible to be genetically predisposed to gum disease, it's more likely that certain lifestyle factors have a greater affect on your oral health. Primarily, poor dental hygiene like not regularly brushing and flossing will allow plaque and bacteria to build up along the gumline, causing inflammation and infection. Additionally, smoking, the use of tobacco, and heavy consumption of alcohol can increase your risk of gum disease and other oral health issues because they limit saliva flow and make it harder for tissue to heal. It's also important to remember that the food and drinks you consume have an affect on your gums and teeth. All of these factors have the possibility of impacting your likelihood of gum disease in addition to genetic history.
How to Stay Healthy on Your Own
Thankfully, gum disease and other oral health problems like tooth decay can be prevented by following the right steps:
Brush your teeth twice a day for two minutes each session, angling the brush at 45-degrees on your gumline for thorough cleaning.
Floss once a day to remove plaque and bacteria that get caught in between your smile.
Add a nonalcoholic mouthwash to your routine to clean hard to reach areas in your mouth.
Visit your dentist regularly for checkups and cleanings.
Avoid the use of tobacco products or heavy consumption of alcohol.
Are you ready to keep your smile and body in tip-top shape? You don't need to order a genetic test to do it! Remember these pro tips for healthy gums and teeth.
About the Practice
Dr. Joy Todd and Dr. Ronald Anderson work together to provide their patients with amazing dental experiences. They know the dangers of gum disease, which is why they offer treatment and prevention tips to keep you healthy. For any questions, they can be reached through their website or by phone at (614) 475-1874.