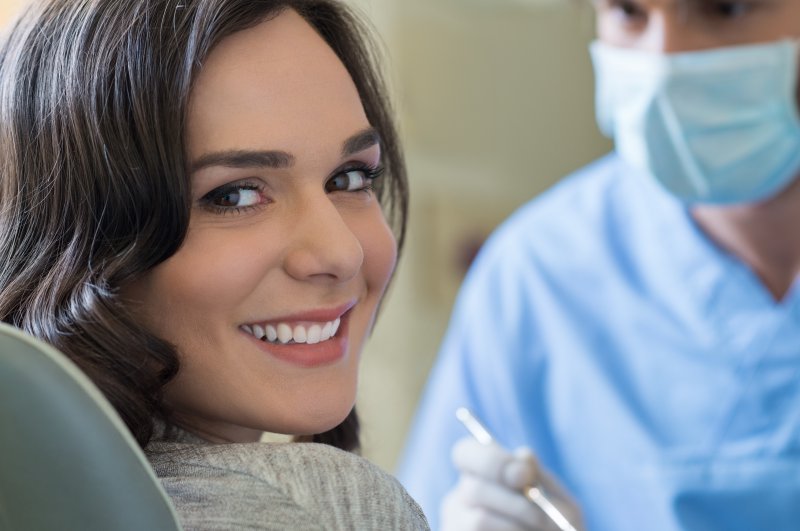 Many people don't think much about it during their visit, but dental offices are actually some of the cleanest spaces you can be in. This is because, unlike many other businesses, dental offices have to be as sterile and clean as possible in order to prevent the spread of germs and disease. While COVID-19 may be giving you second thoughts about visiting a dentist in Gahanna for an exam, you have nothing to be afraid of when it's time for your routine exam, cleaning or other procedure. Here's why!
Protective Attire and Barriers
During your dental visits, you may have noticed that all dental employees are wearing nitrile gloves and surgical masks. Since dental treatments are known for spreading saliva and other bodily secretions, it's important that dental team members, dentists and patients are properly protected from germs. You may also notice employees making use of disposable gowns, laboratory coats and other uniforms, making it easier to remove harmful bacteria from themselves after providing a patient with care.
Additionally, dental offices take the time to cover dental chairs, keyboards, monitors, and other nearby appliances or large surfaces that could potentially spread germs with medical-grade plastic material.
Handwashing Practices
Just because dentists, hygienists and assistants wear gloves does not mean they forgo washing their hands. Handwashing is one of the most effective methods for killing and removing germs after seeing a patient. You'll notice that employees make sure to wash their hands before they leave the operatory. In the event that gloves are torn or perforated in any way, handwashing is even more crucial.
Constant and Consistent Disinfection
Since germs can spread rapidly throughout the day, team members always take the time to disinfect operatories after a patient leaves. This way, incoming patients are not exposed to any germs left behind from previous patients. Disinfecting the dental chair and any surfaces the patient may have touched while they were being treated is important, but so is cleaning chairs in the waiting room and any objects that may be touched by those waiting to see the dentist or a hygienist. Due to COVID-19, the waiting room is likely to be removed entirely as dentists ask patients to wait in their vehicles instead.
Disposal and Sanitation of Dental Equipment
All dental utensils undergo a comprehensive sterilization process, which is completed by a dedicated assistant or hygienist. This includes scalers, handpieces, dental mirrors, and any other instruments that may come into contact with a patient. In the case of disposable materials, they are thrown away properly and disposed of in containers that prevent the spread if germs indefinitely.
Keep in mind that these steps were already the standard for dental offices around the country. Not only are these protocols being ramped up in the time of COVID-19, but additional infection control steps are being implemented. With these in mind, you can rest knowing that your safety is the highest priority!
About Anderson Family Dental
Dr. Anderson and Dr. Todd want nothing more than to make their patients feel safe at all times during their visit. Whether you're in need of a basic exam and cleaning or need to manage a dental emergency, they'll make sure that your health and safety is accounted for in every single way possible. If you need to reschedule an appointment for any reason, please feel free to contact them through their website.