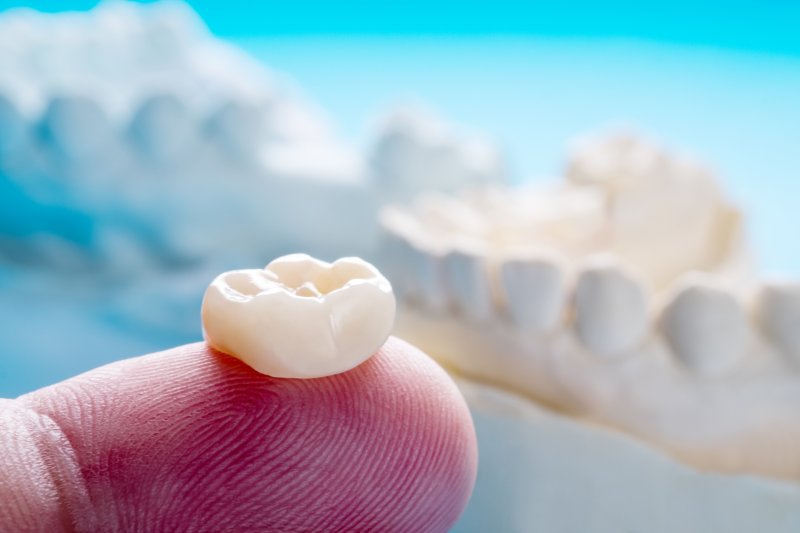 When cavities and tooth decay are present, treatment with a filling and dental crown shouldn't be far behind. In fact, each day thousands of people have crowns placed by their dentist to fix a multitude of dental issues. After all, they are one of the most common restorative procedures, and they can provide your teeth the strength they need for decades to come! However, they do require good dental habits to preserve their integrity and keep them intact. Therefore, make sure to avoid these four foods to increase the longevity of your dental crown in Gahanna.
Chewy or Sticky Foods
Although delicious, chewy and sticky foods (like taffy and caramel) can pose a serious risk to your dental crown. Not only are they often high in sugar, but also their gummy consistency can cling to and pull on your crown. Therefore, it is important to reserve these treats for special occasions instead of an everyday snack. When it is time to indulge, make sure to brush and floss your teeth thoroughly after to prevent plaque from building up and causing tooth decay.
Hard Foods
Innovations in dentistry have led to dental crowns that are as durable as they are natural-looking. However, they are not indestructible. To ensure they last for decades to come, it is important to avoid hard foods that could potentially split, crack, or otherwise damage them. Therefore, it is a good idea to stay away from dense granola and hard candy, since both can break off or dislodge your crown.
Extremely Hot or Cold Foods
After a dental crown is placed, patients can experience tooth sensitivity. Therefore, it is important to avoid hot soups and ice-cold drinks throughout the healing process. If the discomfort persists, then your dentist may recommend toothpaste that is designed specifically for sensitive teeth.
Raw Vegetables
Although raw vegetables are jam-packed with vitamins your body needs, their often crunchy consistency can pose a risk to your crown. Instead of eliminating carrots, celery, and other vegetables from your diet, try cooking them instead. This will ensure that your teeth get the nutrients they need while also making them soft enough to chew.
Permanent dental crowns effectively treat a multitude of dental issues in both emergency and non-emergency situations. To ensure that your teeth are protected and that your dental crown lasts, make sure to avoid the above four foods so you can have a healthy, pain-free smile for decades to come!
About the Practice
Anderson Family Dental was established back in 1968! Over the past five decades, they have built a reputation on providing their patients with healthy, beautiful smiles that last for decades to come. Today, Dr. Joy Todd, Dr. Ronald Anderson, Dr. Brooke Buller, and their hand-selected team provide high-quality dental care and world-class service that is second-to-none. For additional information on restoring your smile with dental crowns, visit their website or give them a call at 614-475-1874.