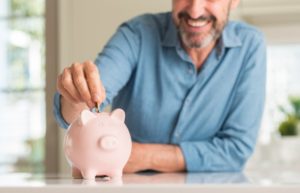 When it comes to paying for your dental care, you generally have three options: cash, dental insurance, or a dental savings plan. If your employer doesn't provide you with dental insurance and you still want to save money at the dentist, then a savings plan might be your best option. Continue reading to learn all about our Anderson Family Dental Member Savings Plan and how it may be able to help you save money.
What Is a Dental Savings Plan?
A dental savings plan serves as an alternative to traditional dental insurance. Rather than paying premiums that tend to change often, you simply pay a flat membership fee every year in exchange for discounts on a wide variety of services.
For example, at Anderson Family Dental, our Member Savings Plan costs $299 a year per person, $575 for a dual membership, and $225 for each additional member. In exchange, most of your preventive care, such as exams, cleanings, fluoride varnishes and periodontal maintenance, is completely FREE. Periodontal treatment, like scaling and root planing, is discounted at 30%. You can also receive many restorative services, including fillings, crowns, bridges, root canal therapy, dentures, and dental implants, at a 20% discount.
While you can only take advantage of our Member Savings Plan here at Anderson Family Dental, it makes dental care more affordable for those without insurance. Plus, there are no deductibles, annual maximums, or waiting periods to worry about.
Is a Dental Savings Plan Right for You?
Dental savings plans aren't necessarily the right fit for everyone, but there are many scenarios in which a patient may benefit from them. Some of these include:
Your dental needs are minimal. If you have generally good oral health and don't spend much on dental treatments beyond routine checkups and cleanings, then a savings plan can save you money over other financial options.
You are unemployed. If you have recently lost your job and accompanying dental benefits, a savings plan can help you afford dental care until qualify for coverage from your next employer.
You have Medicare. Even though Medicare provides significant discounts on medical care, it isn't always enough to meet your dental needs. Signing up for a dental savings plan can help fit your oral healthcare into your budget.
You deserve to get your teeth taken care of without breaking the bank. Call your dentist today to find out more about how you could benefit from a dental savings plan.
About the Practice
At Anderson Family Dental, our dentists aim to provide comprehensive, affordable dental care for patients of all ages in the Gahanna, OH community. In addition to our Member Savings Plan, we also work with most major dental insurance providers and offer low-interest financing through CareCredit. To find out the best way for you to pay for your dental care, visit our website or call us at 614-475-1874.