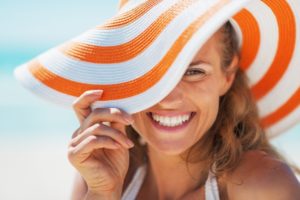 Now that it's summer, are you looking forward to eating delicious cookout foods like corn on the cobs and juicy ribs? Unfortunately, you may have a difficult time enjoying all your favorite barbeque foods if you have missing teeth or ill-fitting dentures. If you want to get back to effortlessly eating with a complete smile, replace your missing teeth with the next best thing: dental implants in Gahanna! Read on to find out why summer is the best time to restore your complete, functional, and confident set of pearly whites.
Benefits of Dental Implants You May Not Have Considered
Dental implants are designed to look, feel, and function just like natural teeth. While this gives them unparalleled aesthetics and longevity, it also provides other benefits, including:
Easy to care for: Unlike gaps in your smile or other tooth replacement options that need special care to be kept clean, dental implants can be easily cared for with regular brushing and flossing.
Prevent premature aging: Dental implants replace the roots of your missing teeth, which stimulates blood flow in the jaw. This prevents deterioration and a sunken, aged appearance in the facial features.
Safeguard oral and overall health: It's easier to practice great oral hygiene and control the levels of plaque and bacteria in your mouth with dental implants. Not only does this lower your risk of tooth decay and gum disease, but the systemic health issues that come with them as well.
Why Summer Is the Best Time for Dental Implants
Dental implants are fused directly into the jawbone via osteointegration to create their rock-solid foundation. Since this process can take several months, summer is the best time to start your journey towards a new smile. As your mouth heals, you'll be able to relax in the sun by the pool or in the backyard with your family. To top it off, delicious soft summer foods like ice cream, smoothies, and mashed potatoes are perfect to eat during your recovery period.
The Sooner You Get Dental Implants, The Better
Repairing your smile may not be the first item on your to-do list this summer, but it's important not to put off replacing your missing teeth because:
As soon as a tooth goes missing, your jawbone begins to shrink, and your remaining teeth begin to shift out of place.
Changes in your mouth may make it more difficult or nearly impossible for dental implants to be placed if you wait too long.
Getting dental implants in the beginning of summer means your newly rebuilt smile will be ready just in time for the holidays and fully prepared for next summer!
Investing in your smile with dental implants now is a decision you will benefit from for years to come. Talk to your Gahanna dentist today to see if this modern tooth replacement option is right for you!
About the Practice
For over 15 years, Dr. Joy Todd has been helping the smiles of Gahanna, OH look and feel their best. She offers a wide array of services to help all her patients comfortably and easily achieve optimum oral health. She truly cares about every aspect of her patients' wellbeing, which is why she offers services like dental implants, TMD Therapy, and sleep apnea treatment. If you'd like to learn more about getting dental implants, feel free to contact her via her website or at (614) 475-1874,